Venue:
Tokyo, Japan
Dates:
24 August-5 September
Time in Tokyo:
BST +8
Coverage:
Follow on Radio 5 Live and on the BBC Sport website
Lee Pearson won his 12th Paralympic title as Great Britain took five golds across four sports on day two of the Tokyo Paralympics.
The Para-equestrian rider, who made his debut at Sydney 2000, and his horse Breezer, claimed victory in the Grade II individual test with team-mate Georgia Wilson third.
There was also joy for a trio of Paralympic debutants – cyclist Jaco van Gass and swimmers Tully Kearney and Maisie Summers-Newton, who all set world records on their way to winning gold medals.
And wheelchair fencer Piers Gilliver, a silver medallist in Rio, went one better this time in the epee A final.
Van Gass, 35, who was injured while serving with the Parachute Regiment in Afghanistan in 2009, beat team-mate Fin Graham in the C3 3,000m individual pursuit final.
Both riders had smashed the world record in qualifying for the final, with Graham knocking more than six seconds off the previous mark before Van Gass lowered it by another two seconds to three minutes 17.593 seconds.
Kearney, who had finished a heart-breaking second in Wednesday's S5 200m freestyle final, bounced back brilliantly to take gold in the 100m freestyle while Summers-Newton beat a world-class field, including defending champion Ellie Simmonds, in the SM6 200m individual medley.
Gilliver got revenge on China's Sun Gang, who beat him in the final in Rio, in the last four before a 15-9 win over Russian Paralympic Committee athlete Maxim Shaburov in the decider.
There were also silvers for cyclists Jody Cundy (C4-5 1000m time trial), tandem pair Aileen McGlynn and Helen Scott (B 1000m time trial) and Para-equestrian rider Sophie Wells (grade V individual test). Wheelchair fencer Dimitri Coutya won bronze in the men's epee B event.
'Emotional' Pearson continues dominance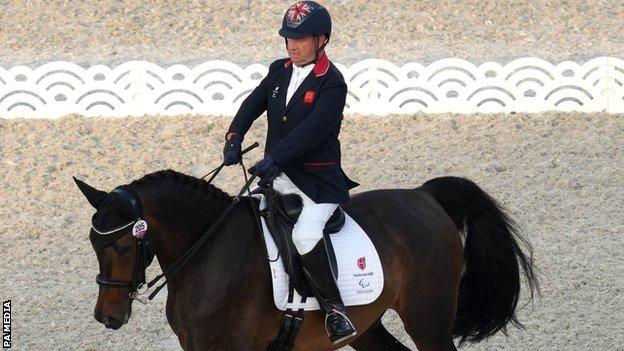 Pearson, whose gold sees him overtake Baroness Tanni Grey-Thompson and former swimmer Dave Roberts to sit third in the British all-time list, has been a mainstay of the British team since he made his international debut in 1999.
He was born with the condition arthrogryposis, which meant the muscles in his arms and legs grew as scar tissue in the womb.
The 47-year-old was visibly moved after his performance, which scored him 76.265%, with Austrian rival Pepo Puch on 73.441 and Wilson impressing on her debut on 72.765.
"I'm as emotional as the first – probably more," he told Channel 4. "I don't think I've cried immediately after saluting at the end of a test before now.
"I saw Breezer as a day-old in my parents' field and to be here with him as a home-bred and win a gold medal – it's literally fairy-tale stuff.
"He's very highly bred and he was getting tied up and tense because he knew it was a special day. He didn't let me down, but he stayed with me and I'm really proud of him.
"The judges love him now and I'm going to carry on taking him up the levels with able-bodied too. I just feel so lucky I've got horses in my life. They give me their legs, I'm useless at dancing in real life but we can dance here."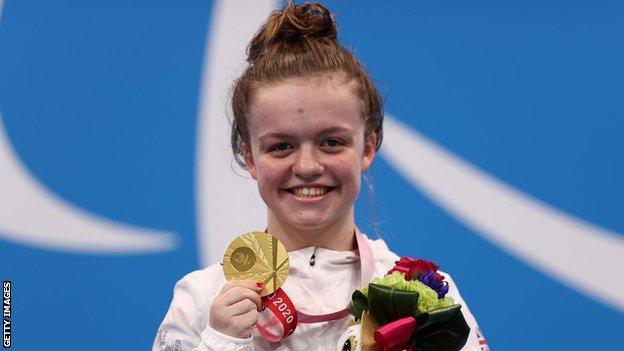 Kearney and Summers-Newton take their chance to shine
In the pool, Kearney showed huge determination to recover from her 200m disappointment where she was overhauled in the last 10 metres by China's Zhang Li.
The 25-year-old, who won in one minute 14.39 seconds, has overcame a series of health issues, including a persistent shoulder problem, and paid particular tribute to team physio Ritchie Barber for getting her to the start-line.
"I said yesterday my fitness wasn't where I wanted it because of the injury," she said.
"Today I felt rubbish in the warm-up, I felt terrible in the heats. I was struggling to recover from yesterday and a sore shoulder and I was not expecting to be able to swim that quick.
"Nineteen days ago I got to the point where my shoulder was getting worse every session and I couldn't swim, it was too painful.
"I didn't actually think I would make it out here, so the fact that I have and then gone and won is just insane. Ritchie has spent so many hours on me, getting me ready and getting my shoulder to the state it is now that I can compete."
Summers-Newton, who was inspired to start swimming when she watched Simmonds triumph in 2012, added Paralympic gold to the world title she won in London in 2019.
The 19-year-old was in fourth place at the halfway mark but her strong breaststroke leg took her into the lead with 50 metres left and she held off Ukraine's Yelyzaveta Mereshko to win in a new world record of two minutes 56.68 seconds. Simmonds came fifth.
"I knew how badly I wanted it and put everything into it," Summers-Newton told Channel 4.
"When I saw how close they all were I just thought 'put your head down and go for it'. I just can't believe I've got it."
Van Gass relishes Paralympic debut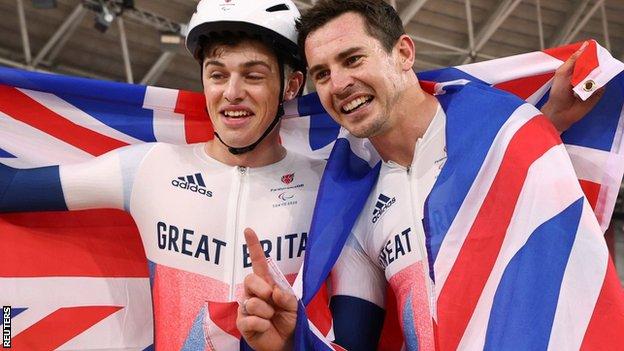 South Africa-born Van Gass' life changed when he was hit by a rocket-propelled grenade, leaving him with a collapsed lung and other internal injuries, shrapnel wounds and leg injuries, while he also also lost his left arm at the elbow.
Since then he has gone on to be part of a record-breaking team of wounded soldiers who trekked to the North Pole, with Prince Harry joining them for part of the journey, won gold at the Invictus Games, run several marathons, climbed mountains and become a downhill skier.
Van Gass said that his Paralympic gold was a dream come true.
"At this very moment in time, this is the best thing I've done," he said. "I have done some amazing stuff and they all have their difficulties and today was very tough.
"It's such a relief to finally be here representing GB and coming away with the top prize.
"I'm very happy with myself. We've got to enjoy this moment but in a few hours' time I need to reset, forget about all this and go again tomorrow. We still have other races to give our very best in."
Cundy set a Paralympic record in his C4 class but he could only watch as Spain's C5 rider Alfonso Caballo Llamas claimed a new world record to win gold.
The 42-year-old, who was a swimmer before taking up cycling, becomes the first British man to win a medal at seven Games.
McGlynn and Scott, who won silver at London 2012, only returned to training together 12 weeks ago.
"It's amazing to do the time we did which was a 2.5-second personal best for us as a team," said McGlynn. "We are so proud of what we achieved."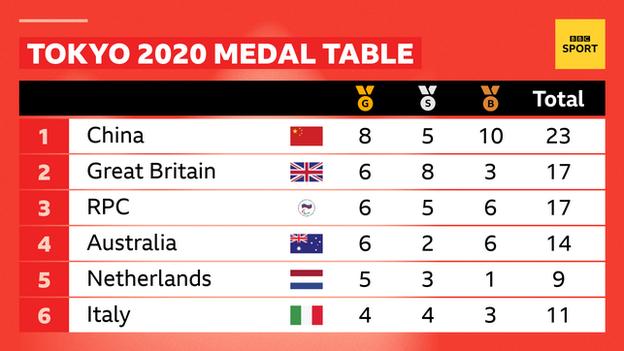 Elsewhere on day two
GB are into the semi-finals of the wheelchair rugby event after making it two wins out of two with a 60-37 success over New Zealand. They will play the USA on Friday (09:30 BST) to decide who finishes top of the pool.
The GB men's wheelchair basketball team made a winning start to their campaign with a 70-43 victory over Algeria but the women suffered their second defeat in a row, losing 54-48 to Japan.
Powerlifter Zoe Newson missed out on a medal at a third consecutive Games when she could only finish fourth in the -41kg event.
In table tennis, defending champion Will Bayley made it two wins out of two in class 7 with a 3-0 victory over Chalermpong Punpoo of Thailand to qualify for the quarter-finals. Team-mates Jack Hunter-Spivey (class 5) and Joshua Stacey (class 9) are also into the last eight of their events while Aaron McKibbin, Billy Shilton and Ross Wilson are through to the last 16 of the men's class 8 singles.
On a busy day of action in the pool, Ellen Keane won Ireland's first gold medal of the Games when she held off the challenge of nine-time Paralympic champion Sophie Pascoe of New Zealand in the SB8 100m breaststroke final.
American teenager Anastasia Pagonis, who has become a social media star, thanks to her Tik Tok videos which challenge preconceptions about being blind, set a new world record on her way to gold in the S11 400m freestyle.
Hosts Japan won their first gold medal of the Games when Takayuki Suzuki claimed victory in the S4 100m freestyle. There is a strong British link to his win – the 34-year-old has been based at Northumbria University since 2015 where he trains with coach Louise Graham.
The first member of the Refugee Paralympic Team in action in Tokyo – Syria-born swimmer Ibrahim Al Hussein – was disqualified in the heats of the SB8 100m breaststroke.